The second Azalea Festival is held from April 7 to May 1, 2018 in Fansipan Legend.
Coined as the "realm of azaleas", Hoang Lien forests are the most typical habitat of azaleas in Vietnam with nearly 40 species of different colors, including red, white, pink or yellow… Azaleas are in bloom almost all year round, but their peak time occurs in late spring and early summer.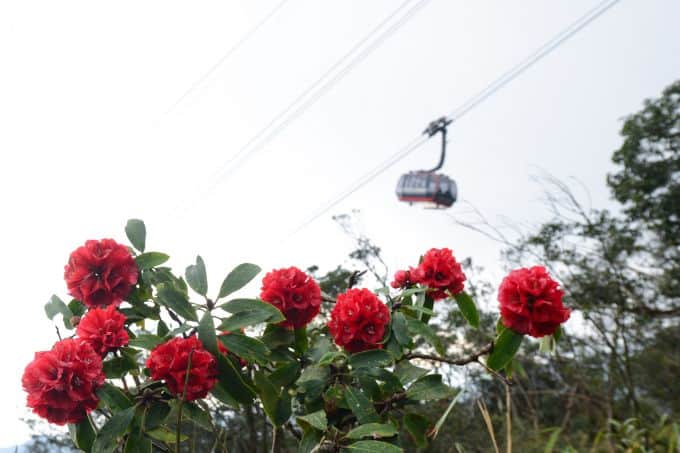 When spring and summer change the guard, it's time for pink and red azaleas to beam. As the summer sun broils, swathes of white and yellow azaleas light the whole mountainous scenery up.
A cable car journey will definitely bring you closer to a spectacular wonder of numerous endemic, valuable and stupefying azalea species put on display at the cable car departure terminal. It's also meant for honor of the ubiquitous floral species of the Northwest at the largest scale ever seen in Lao Cai.
On this occasion, visitors can also savor the Northwestern cultural sphere through multiple entertainment and amusement activities during the festival. At the entry of the amusement complex, visitors are greeted with crystal sounds of the gouard flute, bamboo flute and Hmong flute… in the air.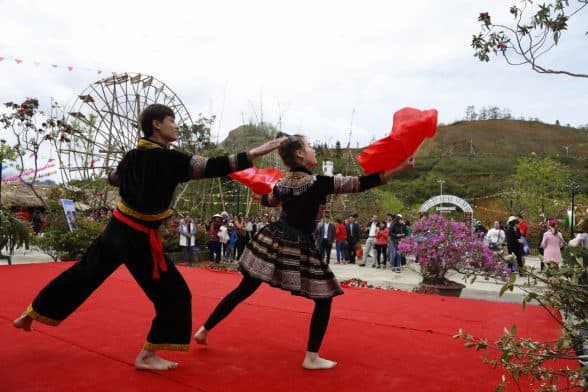 The welcome continues at the departure terminal where visitors are invited in various native highland games such as swinging, throwing còn cloth balls, stilt walk, climbing greasy pillars, banging drums blindfolded, bamboo pole dance or single-wired bridge walk…
At the arrival terminal, visitors are once again immersed in signature Northwestern chants and ballads such as Sapa Where the Heaven and the Earth Meet, Spring on the Highland Hamlet or The Highland Marketplace… Visitors will delight in little souvenirs that are specialties at the highland market that hosts Northwestern commodity booths.
Following the Hmong Horn Festival, the Azalea Festival is the next highly appreciated cultural event to continue stoking the festive mood in Fansipan Legend throughout 2018. The event is not just a grand tourist scheme in early summer in Sapa (Lao Cai), but also a means to realize the ideals of Sun Group to promote tourism without compromising native cultural essences and community identity by creating well-researched and attractive tourist products and securing most rewarding experiences of native culture for visitors.