Bouquets to your darling, lucky draw for exciting gifts, check-in in the midst of splendid floral vastness or just a view from the Fansipan… Sapa represents sweetest memories for the fairer sex of the world this International Women's Day.
  Should you still think over what to present your significant others on that day, it's a great suggestion that we bet your significant others will swoon over.
These early days of March, Sapa is still well in marvelous spring mode. The mist drenched town looms magically in fleeting clouds at the paling of the sky, and glints radiantly under the beaming sun at noon, then to be draped in the frost again that brings frozen hearts closer together. It is the perennial romance of Sapa at the end of the spring that makes it an eternal commonplace for loving hearts, and the town itself and its lavish experiences are indeed a beautiful gift that men and boys wish to bestow upon the fairer sex on the International Women's Day.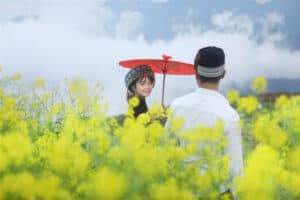 Not just a full package of four seasons in a single day, Sapa also presents them a whole world of explorations. In Sun World Fansipan Legend alone, romance is well in the air with vast swathes of spring flowers spilling over verdant hills, sacred religious experiences and most vibrant moments at the northwestern marketplace and even unique highland performances.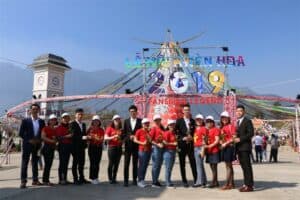 Greeting your ladies at the entry of the Departure Terminal are beaming men of the resort with a fragrant and sweet rose on their hands. Each rose bestowed upon their fair hands before being led to the complex is a wordless gesture of affection and tribute that Sun World Fansipan Legend wish to send to women's world.
Flowers do abound all over the Fansipan Legend these days. Perennial rose species send their enchanting fragrance in the air by the market. White mustard white flower hills cascade down the soil. Mustard yellow blossoms smile along Nguyen Chi Thanh street leading to the Departure Terminal. Ladies can thus hardly step away without posing for dozens of photos with pals.
Spring may have faded away elsewhere, but stil presides over the Fansipan. Peach blossoms are just nigh, reaching out their maiden petals. From white, to yellow Hmong and French Hmong ones… over 600 peach blossom trees in Sun World Fansipan just come into bloom. Japanese cherry blossoms and Kunming cherry blossoms just yield their virgin blooms of the spring, as pink floral clouds ooze elegance and refinement.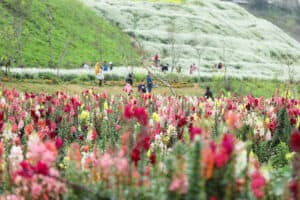 This season, Fansipan may easily lead you lost as hundreds of flower species from azaleas, Sapa roses, tulips and tree marigolds to lavenders, snapdragons and orchids… clone and rule. Sun World Fansipan is simply a giant floral tapestry splurging over the high mountains of the northwestern borderline. This March 8 gift is worth even more than millions of mere roses.
Flowers leave us all enthralled, while clouds beckon us to the Fansipan, of course to touch the sacred peak that we should marvel at once in lifetime. Cable cars sweep into the air, over muong Hoa vales and undulating mountains of lush green. Spring makes sleeping buds arouse and drapes the whole landscape of Sapa in refresing vitality and life. Sometimes, clouds tease with passengers and blur the cable cable windows, and at times, the sun crumbles into glinting fractures of purity over the mountains and the woods. It is widely said to be the most beautiful and radiant season on the Fansipan. Your ladies will definitely not oppose.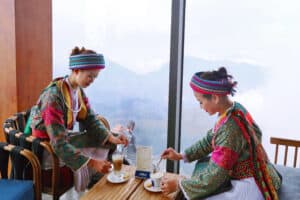 After 15 minutes in the air, we land on the Fansipan. This International Women's Day, the complex offers a lucky draw program that involves thousands of gifts being drink vouchers to be used at the flagstaff café or Truc Xanh café and worth VND300,000 to 1,000,000/gift. Don't miss out on this fantastic opportunity only on March 8, to sip some drooling coffee or the signature apple cider that warms your flesh up while frosty clouds swirl over out there, or in the front of the cloud ocean just a stone's throw away from you. Bet that all cafés and restaurants of the world can't hold a candle to these little places on the Fansipan, to date and to love.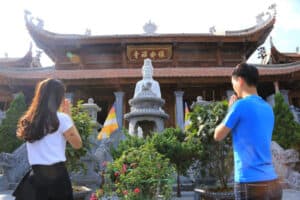 Of course, a journey to Fansipan is more of a pilgrimage to the Zen realm, through religious places of worship in quintessential Vietnamese architecture as if they were well carved into mountains centuries ago. Sinuous stairs, benevolent Buddhist statues by the azalea bush on Alahat Orchid path, or the grand Amitabha Statue atop the floor that casts a giant shadow of salvation and enlightenment on the mortal world. Our sincere worship to Buddha and admiration for the sacred sarira relics in the Grand Buddha statue of the stupa makes our March 8 journey even more rewarding and cordial.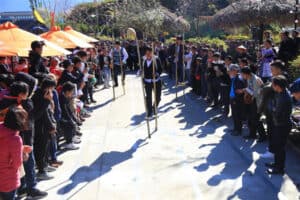 Visitors to Fansipan will also hardly forget its northwestern delicacies. Your generous feast to women on their International Women's Day with highland treats is just more peculiar and notable than tedious and overtly sumptuous parties at home Wild bamboo shoots stir fried with lolot leaves and beef, fried rice pipes still reeking of bamboo secent, mouthwatering grilled piglets or irresistibly delicious mixed salads with dried buffalo meats… Even hotpot is on its own league. To name a few is enough to make our stomach churn, and us desire to leave all behind and march to the Fansipan. On this occasion, Hai Cang Restaurants of the compex offers a 10% discount on the billed amount for tourist groups with female members. Is that little gift justifiable for a romantic trip to the peak with your significant other?
Bouquets, gifts, romance and swirling divinity, cordial meals, and even folk games at the northwestern marketplace…, your March 8 gifts will win the hearts of any poker faced ladies.