Let's have a check of best bonuses and business hours on April 30 and May 1 holidays at Sun World Fansipan Legend.
Within five holidays from April 27 to May 1, the complex is open to the public from 6am to 8pm to allow visitors to admire the sunrise and sunset on the Fansipan (last cable car trip from the Fansipan to Sapa is set at 8pm). Please note that cable cars are service free from 6am to 8.30am and after 3pm.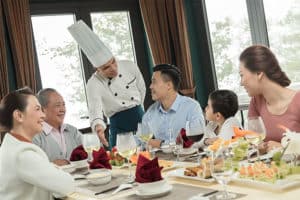 In its business hours, Hai Cang Restaurant puffs up the bonus season with a free-of-charge combo of Muong Hoa hiking train when visitors opt for services at the restaurant from at leas VND150,000, alongside great buffet for just VND200,000.
  In particular, the biggest incentive ever heard from April 28 to 30 allows each visitor who buys cable car tickets for adult after 3pm will be entitled to VD150,000 coupon for services at Hai Cang Restaurant on the second floor, Hoang Lien Terminal, or a takeaway meal.

The combo is indeed a gift bestowed by the complex that visitors should feel free to fully make use of at Sun World Fansopan for your upcoming vacation on April 30 holidays.