As spring and summer change the guard, tourists are flocking to mountains to admire blooming azaleas. This year, the third Azalea Festival that takes place from March 23 to May 5 will definitely intensify most exciting experiences for visitors.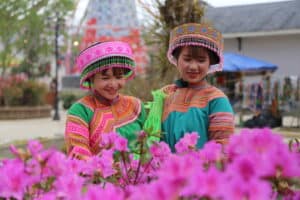 Following the meandering path poetically plied with budding peach blossom trees and the splendid linings of mustard yellow flower swathes, dim echoes of the Hmong flute melodiously lead visitors to the festive world in the front of the departure cable car terminal. The azalea vastness was elaborately nurtured at Sun World Fansipan Legend. Flowers wave to the world in pots, over walls, on welcome gates and even artificial setting layouts… in unruly exuberance, and sprinkling below perennial peach blossom trees.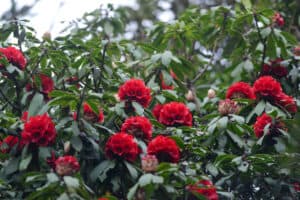 Visitors to the Azalea Festival this year can also take part in a large-scale fresh flower exhibition that displays thousands of flower pots all over the compound, with azaleas predominating across flower trails, ornately azalea laden welcome gates, and a photo exhibition of rare azaleas in Hoang Lien forest. Over 40 endemic azalea species of Sapa of varying colors, such as red, white, pink, gold or purple… may win visitors head over heel with their beaming radiance. Just into the departure cable car terminal, twinkling azalea trees will light up your day and your mood.
Visitors can also search for endemic Hoang Lien azalea species through lively videos and well-captured photos of azaleas on display all across the terminal.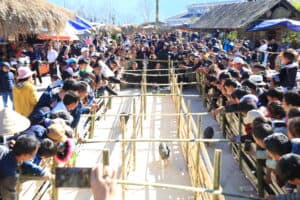 Throughout the festival, many folk games, including Northwest swine race, blindfolded drum hits or stick pushes… are exactly delightful additions to the vibe.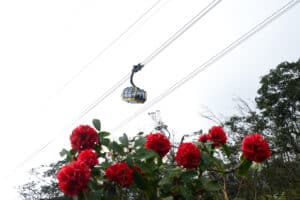 Having been dazzled with the flowers, visitors should head for the ultimate exploration of the Roof of Indochina to admire in person perennial azalea trees in full bloom, which flame the azure sky at the height of over 2,000m.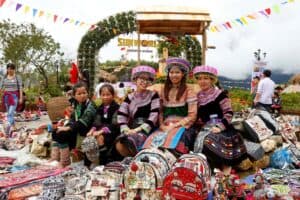 Besides, some highland souvenirs and specialties at Northwestern cultural booths are also little glowing joys while you are already in Sun World Fansipan Legend.