The most advanced Muong Hoa Funicular Railway of Vietnam that connects Sapa Town to the Fansipan cable car departure terminal constructed by Sun Group will be officially launched on March 31, 2018 as to contribute a new and redoubtable tourist product to Lao Cai tourism while enhancing experiences for visitors to Sapa.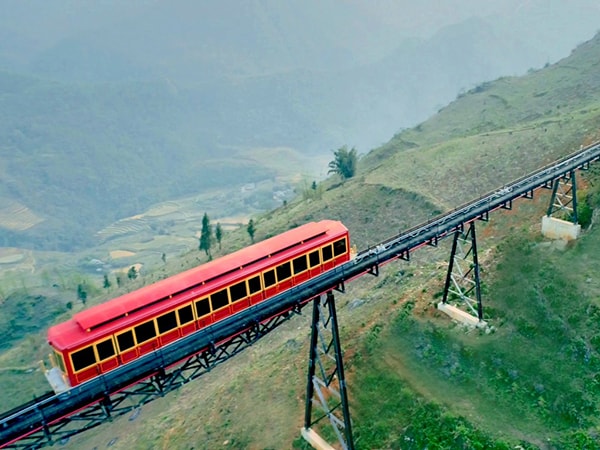 Stretching nearly 2km, it's the longest hiking railway of Vietnam up to date. Departing from MGallery Hotel in Sapa Town and ends at the Fansipan cable car departure terminal, through 2 tunnels and4 flyovers at a maximum speed of 10m/s and with the capacity of 2,000 guests/hour, Muong Hoa funicular shortens visitors' commuting time to just 6 minutes instead of 15 to 20 minutes by car on a treacherous trek.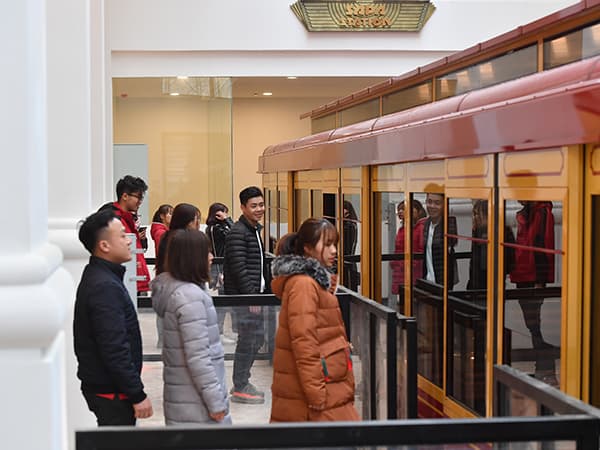 The two trains were designed and manufactured by world famous Garaventa (Switzerland). Each train measures 20m long, 3m wide and weighs up to 25 tons o accommodate 200 guests. The interior of these funiculars are reminiscent of classical and premium European trains through their lighting system, old ceiling fans, elegant galvanized splints and metal details. The trunk is equipped with transparent glass windows that enable visitors to take a close-up of the picturesque landscape of the Northwestern highlands.
The journey to explore the Northwestern highlands by Muong Hoa funicular is indeed a slow-motion film of spectacular scenes. In this film, while visitors are still overwhelmed with old fashioned French architecture of Sapa departure train station designed by legendary architect Bill Bensley, comprising the dome, high ceiling and tangible simulations of the railway, steering wheel and badges of the railway industry…they are immediately struck with the exquisite and premium interior of the trains. The moment the train crosses flyovers, visitors are greeted with the breathtaking scenery, undulating mountains, Muong Hoa Valley and tranquil, idyllic native hamlets loomin behind the misty veil or at the blurring dusk.
As part of Sun World Fansipan Legend complex, Muong Hoa funicular helps complete and diversify experiences and tourist services for our passengers to the Northwestern highlands to explore the misty town of Sapa.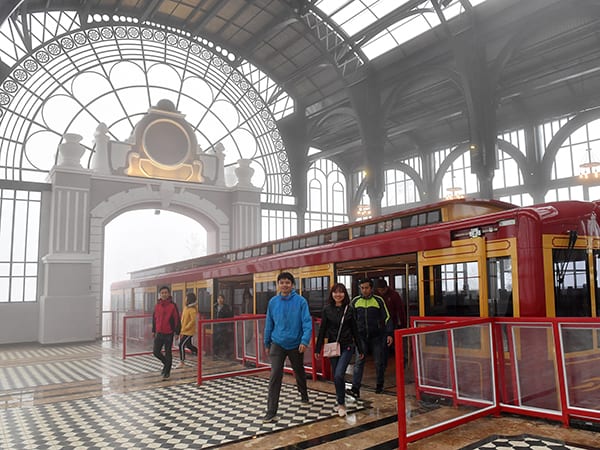 From Muong Hoa Arrival Train Station, visitors will continue your journey to Sun World Fansipan Legend by cable cars. Crossing Hoang Lien Mountains to admire the scenic Northwestern wild from the clouds, conquering the legendary Roof of Indochina or the magnificent cultural and religious site on the Fansipan, including various developments such as the largest Great Amitabha Statue of Vietnam, Kim Son Bao Thang Pagoda hosting various well-crafted Buddha statues, Alahat Path of 18 bronze Alahat statues standing 2.5m tall, Bich Van Zen Monastery or Guanyin Buddha Statue… your vacation on the Fansopan is definitely marked with the most amusing emotions and sensations.
Furthermore, Sun World Fansipan Legend enriches your knowledge of insightful cultural natural and human aspects of the Northwest through its unique festivals such as the Opening of Fansipan Heavenly Gate Festival that lasts until the end of Lunar March, Azalea Festival (April 7 to May 1, 2018) and other events non-stop all year round.
With the operation of Muong Hoa hiking railway that connects 5-star MGallery Hotel (due for inauguration in late 2018) in Sapa to Sun World Fansipan Legend complex, a top complete relaxation, shopping and tourist complex of Vietnam in general and the Northwest in particular has also emerged. Lao Cai tourism has one more world-class product that creates job and improve life of ethnic minorities, while also intensifying both in quantity and quality of visiting influx to the highlands.