Sun World Fansipan Legend is offering 50% discount on Fansipan cable car ticket fare for Vietnamese visitors from December 1 to 20, 2018, which signifies another exciting opportunity to make the most of the 2018 Fansipan Winter Festival.
Accordingly, Vietnamese nationals are to be entitled to Fansipan cable car ticket fare discount in which adults' fare drops to VND350,000/ticket and that of children standing 1 to 1.3m tall to VND250,000/ticket.
Admiring the marvelous natural mountainous landscape of the Northwest, looming hamlets behind the changeable frosty veil aboard Muong Hoa Hiking Train is never that affordable for just VND50,000/ticket while the way-up fare of the hiking train drops to VND70,000/ticket.
For the first time, a Muong Hoa Hiking Train Combo and Northwestern Winter Food Combo from just VND150,000/guest at Hai Cang Restaurant at Hoang Lien Terminal to relish groupers, wild chickens and fresh mushroom hotpot… as delicacies of Sapa can't be more fabulous.
Travelers to Sun World Fansipan these days will delight in the most glistening moments of the Northwest.
A Winter Festival and New Year celebration drape visitors in the authentic sensation of a genuine European winter right atop Vietnamese mountains, from December 1, 2018 to January 20, 2019.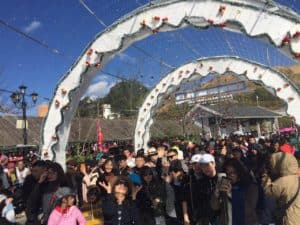 Visitors do the check-in selfie with settings in the Winter Festival
  Beyond the magnificent panorama granted from Muong Hoa Hiking Train or Fansipan cable cars, visitors are also invited into the Sun World Fansipan Legend Winter Festival with a lot of exciting festivities to enable them to make the most of this strikingly vibrant ambience.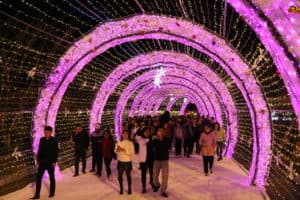 A sparkling winter trail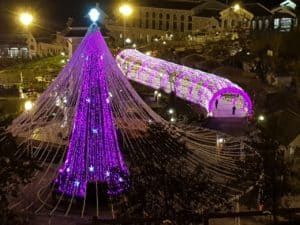 The most spectacular giant Christmas tree towers 18m tall, whose dome spans up to 36m wide and 600sqm in diameter.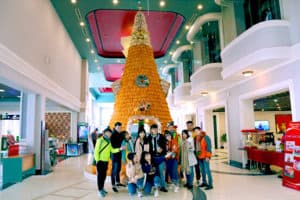 A unique corn pine tree is crafted of over 6,000 corns at the ticket checkpoint of Hoang Lien Terminal.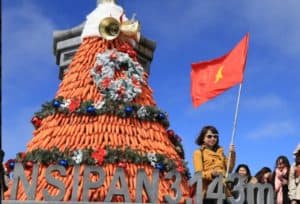 The carrot Christmas tree gleams on the Roof of Indochina
A reindeer car carrying sparkling Santa Claus
  In addition, many festivities such as performing concerts, ethnic musical instrument and food displays… also refresh visitors' cultural and art experiences.
TICKET PURCHASES
Method 1: Buy tickets directly at Sun Plaza ticket counter in opposite to Sapa Stone Church or the ticket counter at the Sun World Fansipan Legend – Nguyen Chi Thanh Str. – Sapa – Lao Cai.
Method 2: Send email via fsp.sale@sungroup.com.vn and fill in your services used and date of these services.
Customer hotline: 0948 30 8888 – 0948 30 9999
A cable car fare discount program applies simultaneously at 75% on the ticket fare of Muong Hoa Hiking Train. Many events are to be elaborately hosted as to pay tribute to our customers as well as to create some novel and unique tourist products and intensify experiences of visitors to Lao Cai by enhancing values of destinations on the Northwestern highlands.
Don't hesitate to pack up and travel to the "2018 Fansipan Winter Festival". It will just be fine to brace for pleasant surprises, and don't ever miss out anything.