On February 7 (or Lunar January 3 of the Year of the Earth Pig), in atmospheric floral splendor and vibrancy, the Flower Horn Festival 0219 was officially opened at Sun World Fansipan Legend compound as to inaugurate the spring outing and New Year Buddhist pilgrimages.
It's the third consecutive time the Flower Horn Festival was hosted on the Fansopan at a grander scale, more splendid outdoor setting and with numerous traditional Northwestern cultural festivities. On this occasion, between February 7 and 19, Sun World Fansipan Legends fixes discount on cable car ticket fare at just VND200,000/passenger for ethnic communities in Lao Cai to enable them to travel to the Fansipan in Lunar New Year.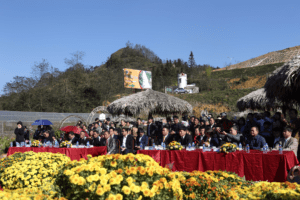 Attendees of the opening ceremony of this year's Flower Horn Festival were Mr. Nguyen Dinh Dung – Deputy Director of the Lao Cai Department of Culture, Sports and Tourism; Mr. Vu Hung Dung – Executive Diretor of the Lao Cai Television, Sapa District authorities, the Executive Board of Sapa District Tourist Association, district cadres and artisans of 6 best flower horn troupes of Sapa.
At 9am, the preliminary tournament of the flower horn festival was hosted on the main stage and involved competition between handpicked artisans from across communes of Sapa to select most impressive performances and vye for troupes from neighboring provinces, including Ha Giang, Lai Chau, Dien Bien, Son La and Yen Bai on February 15 and 16 and for the final round on upcoming February 17.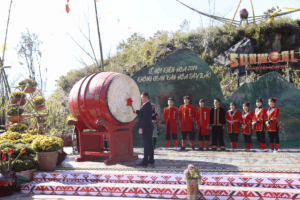 The three examiners of this year's contest were folk artisan Giang Seo Ga – chief of the jury, artisan Hang A Seo and artisan Giang A Sang, and members of the jury included those from the two previous festivals hosted at Sun World Fansopan Legend and other horn contests held in the region.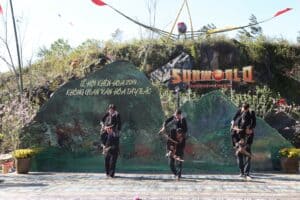 Mr. Nguyen Xuan Chien – President of Sungroup of the Northwestern area and Executive Director of Fansipan Sapa Cable Car Tourist Services Co., Ltd. delivered his speech and hit the drums to inaugurate the New Year festive season at Sun World Fansipan Legend.
Following inaugural drum beats, Hmong horn troupes vyed in the group competition and single competition. Striking performances by these artisans were highly appreciated by the jury and visitors alike.
Asked about the significance of this competition, folk artisan Giang Seo Ga – chief of the jury of the competition at this 2019 Flower Horn Festival said: "Visitors to th Northwest, notably Sapa, Lao Cai, are enthralled with the Hmong horn tunes and highland dances. That cultural quintessence is unable to be found elsewhere, but in the wake of modernized cultural trends, this northwestern cultural essence increasingly seems to sink in oblivion. The flower horn festival is now in its third year, and the third horn ance contest gathers folk artisans from across the northwest by creating a playing field to perform their highland dances and Hmong tunes to visitors nationwide. It's by that means to preserve and promote the cultural quintessence of the Northwest, which I think not everyone is capable of. Particualarly, this year I and other members of the jury appreciated the preparations of performances and costumes of Hmong horn troupes, which were markedly better than those in previous competitions".
In addition to the horn dance contest, this year Sun World Fansipan Legend paid due attention to setting decoration in order to enrich the cultural experiences of our visitors.
The entry to the flower horn contest is ornately laid out with native species setting, two peacocks braided with colored grass, the setting of the Hmong frilled skirt as inspired by the ordinary costumes of Hmong maidens.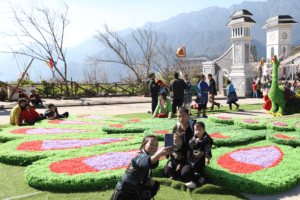 The colorful peacock setting is the check-in hotspot of many visitors at the entry to the complex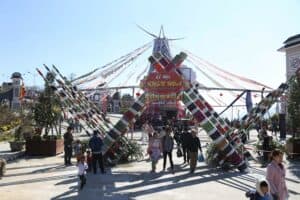 The welcome gate is inspired by the 6 Hmong horns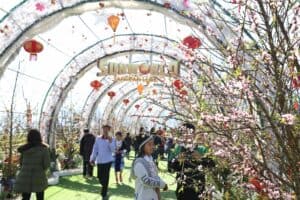 Here, visitors walk around the splendid Spring Path laden with the green grass, pink peach and white plum blossoms of Sapa, and rows of colorful lanterns that seem to flame up the path. This year, Sun World Fansipan Legend decorates with over 50,000 tulips, 4,000 purple daisies, thousands of camellias, chrysanthemums, scarlet sages, geranium, azaleas, pensée, Sapa roses, snapdragons, etc. mingling well with radiant peach blossoms and plum blossoms.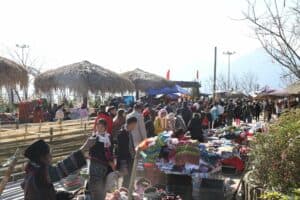 Beside horn contests and admiration for the floral tapestry, visitors can also join several folk games such as the Northwest swine race, stilt walk, stick pushing, arbalest contest, or melodious voices and tunes of ethnic maidens. To sip some newly brewed ethnic liquor and find wild leaves still reeking in the throat, relish Sapa delicacies or pick some souvenirs at the northwestern market within Sun World Fansipan Legend.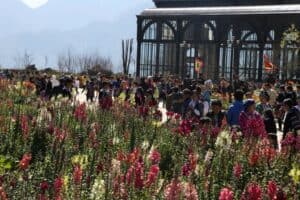 Native lads and lassies don their gorgeous ethnic costumes and revel in spring outings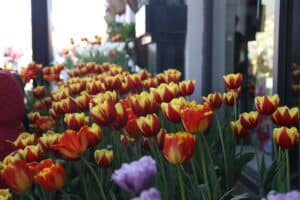 Splendid tulips in full bloom on the Fansipan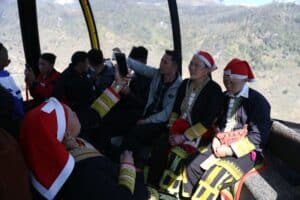 Ethnic communities revel in an experience of Fansipan cable cars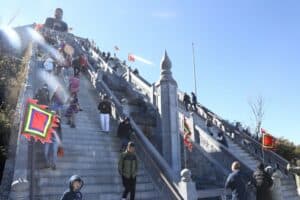 As usual, thousands of BUddhist and visitors will gather at Bao An Zen Monastery at the foot of Hoang Lien Mountains, at Bich Van Monastery and Kim Son Bao Thang Pagoda to admire the Buddhist sarira within the Grand Amitabha Buddha Statue along the climb to the 3,143m peak and pray for inner peace atop the mighty and sacred Fansipan.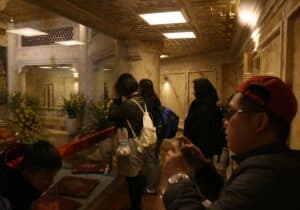 Visitors sincerely pay homage to the Buddhist sarira and pray for peace
  The Flower Horn and Fansipan Heaven Gate Opening Festivals are held on an annual and periodic basis in early Lunar January. These festivals are meant to honor, preserve and promote cultural essences, Hmong horn tunes and graceful dances of ethnic communities with an aim to provide an enriched Tet Holiday experience in the Northwest, and reposition the peak as a meaningful Buddhist commonplace for visitors in Lunar New Year.