As scheduled, on February 7, 2019 (third Lunar day of the New Year of the Earth Pig), the third Flower Horn Festival – Northwestern Cultural Sphere will officially be opened at SunWorld Fansipan Legend.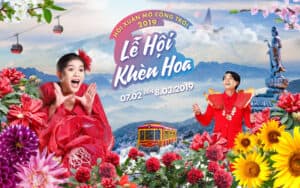 The festival is coordinated by the Sapa District People's Committee (Lao Cai) with Sun World Fansipan Legend. Thousands of peach blossom trees that survive the wintry frost spring up in vigor and in different hues of dark pink, fading pink and pure white… along the long entry route to the complex. Ancient Sapa roses and David Austin roses… come into radiant bloom and perfume the air. Endemic Northwestern floral species such as orchids and azaleas rise alongside exotic and queenly Dutch tulips. The whole flower kingdom is overwhelming and drapes visitors in an insatiable feast of enjoyment and marvels.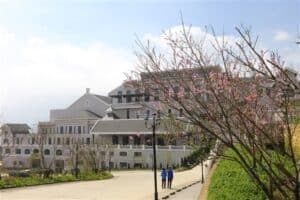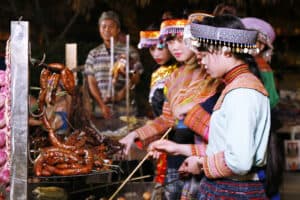 In a thatch roofed vendor, local delicacies rally. Mouthwatering grills, offal hotpot or hung dried buffalo meat… are indeed irresistible. Sipping some liquor in an authentic Northwestern hamlet, our hearts still linger well on spring.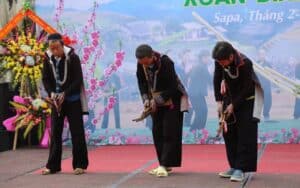 The most expected performance in Flower Horn Festival is the third Hmong horn dance contest. This year the contest features three guest teams from Mu Cang Chai (Yen Bai), Dong Van (Ha Giang) and Lai Chau Province, and thus definitely regale the spectatos with melodious and enchanting odes and melodies to eternal spring.
With a lot of art and cultural displays and folk games… in the quintessential cultural sphere of the Northwestern highlands, the festival further enriches and intensifies the spring outing experience of visitors at the beginning of the year. The stage is also stirred up non-stop with numerous unique stage performances. In that ubiquitous spring rituals of the Northwest, visitors are also draped in some gift based folk games such as stilt walk, greasy pillar climb, single wired bridge walk or hide and seek…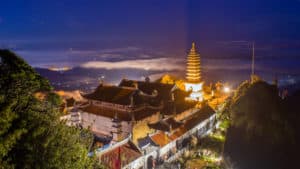 A spring outing at Sun World Fansipan Legend this year is also enlivened with strolls around some magnificent religious compounds atop the Fansipan, including Kim Son Bao Thang Pagoda, dai Hung Treasured Hall that hosts many elaborately cast Buddha statues, a 11-storey stupa of monolithic stone, the Nothingness Path lined with 18 copper Alahat statues standing 2.5m high or the tallest Amitabha Statue of Vietnam (21.5m)… There are also numerous outstanding Buddhist landmarks such as Bich Van Zen Monastery, Guanyin Buddha Statue, the Belfry – Observatory Deck or the Mountain God Shrine… A spring outing to the Northwestern peak to pray for peace of mind is thus even more fulfilling and meaningful.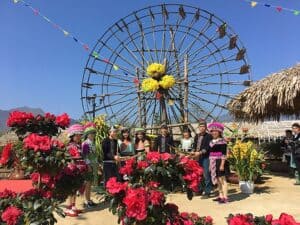 In its third year, Flower Horn Fefstival – northwestern Cultural Sphere not only diversifies and intensifies experiences and festivities of visitors in their conquest of the Roof of Indochina, but also makes some humble contributions to preservation of ethnic culture and practices in the Northwestern highlands and gears Lao Cai tourism towards more sustainable development as a top destination of the Northwest.