Right here at Sun World Fansipan Sapa, visitors are easily stupefied with the unwinding violet hill in sight and and in bloom.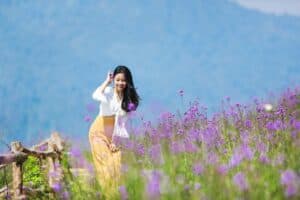 The vast and taunting violet hill racing to infinity spans 15,000sqm, at the very entrance gate and is thus an integral destination for every single visitor in Sapa and Lao Cai in general these days.
Our mortal eyes are immediately glued at the tender violet backdrop presiding over the hill. At the entrance gate, the violet carpet spreads far and wide. At their infancy, the flowers drew much attention from visitors thanks to their peculiarities and unlikeliness to be cultured at such a vast scale like they are at Sun World Fansipan Legend. Hence, you will totally swoon over the violet hill as the flowers are in full bloom and burst in haunting purple.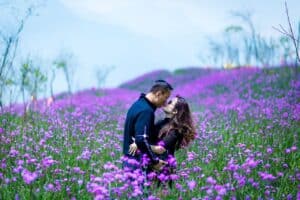 The hill is now a tryst and a check-in place of loving hearts
Beside the exuberant flowers in sight and selfies, vistors can also enjoy various services such as a Muong Hoa hiking train trip, most quintessential delicacies of Sapa at Hai Cang Restaurant with a mouthwatering combo of just VND150,000, a music show of Northwestern folk melodies, pole dances with the natives, all of which are rewarding pluses for an authentic escape to the highlands.
Tip: You should wear light clothes, bring a jacket, gloves, scarf, hat, sports shoes because it is very cold on the top of the mountain. In addition, during the day in Sapa, there is a lot of sunlight, you should use sunscreen to protect your skin.