In the afternoon of November 4, visitors on the Fansipan shared a video recording the eerily unbelievable rainbow light like an apparition on the Fansipan, Sapa District, Lao Cai.
The location of the halo was Kim Son Bao Thang Pagoda in the purely Vietnamese religious complex atop the Fansipan.
From the beginning of this year, this astonishing natural phenomenon has been recorded many times in some key locations such as the Guanyin Buddha Bronze Statue or the finial of the 11-storey stupa of Kim Son bao Thang Pagoda, much to the delightful excitement of visitors.
Explaining this phenomenon, Doc. Le Huy Minh from the Institute of Global Physics of the Vietnam Academy of Science and Technology said, it was surely rare in Vietnam and very difficult to observe, called the "corona".
The corona is created as the sunshine or moonlight goes through glacial crystals that reflected and yielded halo coronas. The sun corona comprised 7 sparkling colors that looked so marvelous and inscrutable.
As presumed, visitors may find out many other opportunities to observe this phenomenon on the Fansipan when they travel in the summer, autumn or early winter.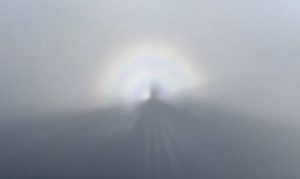 Some unique rainbow corona
Credit: Anh Tuan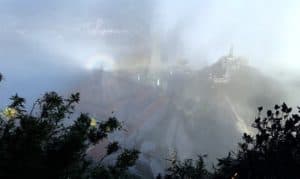 The corona at the purely Vietnamese religious complex of Kim Son Bao Thang Pagoda and Fansipan Train Station