What won the hearts of readers of Rough Guides to vote Sapa as one of the Top 10 most fascinating destinations of Southeast Asia?
On December 24, famous travel publishing house Rough Guides of the UK disclosed Top 10 most fascinating destinations of Southeast Asia, of which Sapa and Hoi An of Vietnam ranked 6th and 10th, respectively.
In this voting round of the Most Fascinating Destinations of Southeast Asia, which was objectively carried out by readers across the world, Rough Guides unveiled 10 top destinations to drop in of Southeast Asia. Sapa of Vietnam, long known for its overlapping rice terraces that spill over Muong Hoa Valley and heavenly natural landscape, was ranked 6th.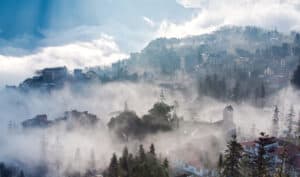 In their introduction of Sapa Town, Rough Guides aroused curiosity and sentiments of their readers with this description: "Adventure lovers may ge well aware of this destination, which always makes our hearts skip a beat at the sight of this characteristic landscape of Southeast Asia. Discovered by the French in the 1920s as a retreat from the broiling summer of the North, Sapa rose to prominence and was gradually crowded in recent years, but extreme experiences are simply here to stay. Climbing up rice terraces on slopy Muong Hoa Valley, staying overnight on mist drenched hills or taking over the Fansipan – the Roof of Indochina under the falling sunset are some of the more rewarding experiences".
Sapa, well famous in the eyes of international visitors as the "town in clouds, is even more alluring with its magnificent nature, breathtaking Muong Hoa Valley and towering Hoang Lien Mountains wrapped in the oceanic clouds cascading down the earth. In particular, with Fansipan cable car route to the Fansipan and Muong Hoa Hiking Train that departs from heart of the town, visitors are now granted greater access to a panorama of the town and undulating mountains from up high.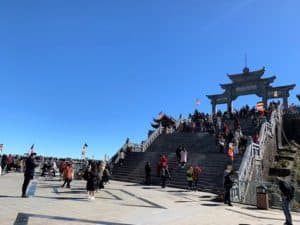 The race to the Fansipan – Roof of Indochina in Vietnam aboard three wire cable cars carries visitors to lapses of billowing clouds, vast swathes of pristine primordial forests meandering around Muong Hoa concave valley and towering mountains of Hoang lien. Through glittering windowpanes, the tapestry of colorful azaleas in springtime or glinting undulating rice terraces of gold in autumn, seemingly well within our reach.
The sinuous mountain trek trodden by motorbikes, or even on foot to admire villages and mountains of Sapa is also a great pleasure. Hamlets such as Ta Van, Ta Phin and Lao Chai… welcome strangers with their amazing ethnic lifestyle and tranquil huts bogged in dim cooking smoke, and rich experiences rarely found elsewhere.
Colorful highland marketplaces
In recent years, Sapa is even more corwded because atop the Fansipan lies a complex of grave and solemn religious landmarks that rise above eternal mounts, which intensifies our experiences of divinity on this borderline land.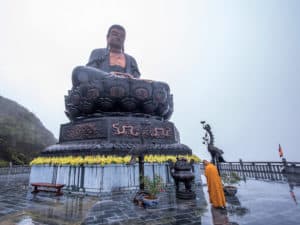 In the midst of the demure Zen sphere, bell sounds echo in the mountain breezes. Standing down the Amitabha Buddha Statue – the tallest copper Buddha statue of Vietnam or GUanyin Statue to pray for peace of mind and happiness, just listen to your hearts and keep calm to the conical milestone of 3,143m, a clear manifesto of your journey to the legendary "Roof of Indochina".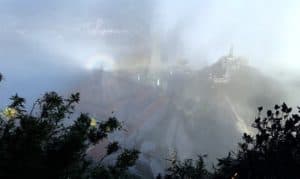 Sometimes, northewestern aura appears long around Kim Son Bao Thang Pagoda and Guanyin Buddha Statue, as if Buddha appeas on earth in this fountain of sacred power of our country. These miraculous natural phenomena are hardly seen anywhere other than the Fansipan.
Also atop the Fansipan, ubiquitous Northwestern cultural festivals are hosted all year round such as the most magnificent Winter Festival ever in sapa or the opening of the Heavenly Gate Cereony and Flower Horn Festival due to take place this February.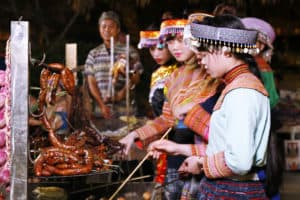 The iconic highland market at the departure terminal fully showcases most quintessential Northwestern delicacies from ethnic communities, such as Sapa pork sausage, Bac Ha phở, hung dreid buffalo meat or ethnic sticky rice… prepared by ethnic cooks on the spot. Stage performances of ethnic folk artisans also nail your best memories of unwinding and eternally young Sapa.
Those who wish to taste the luxury of Sapa as it used to be as an "European-style resort town" founded by the French in the 1920s should drop in Hotel de la Coupole and MGallery by Sofitel. This lavish 5-star hotel was designed by Bill Bensley at the heart of Sapa Town and features a palatial and splendid resort ambience that intertwines both French influences and Northwestern essences in a refined and cool manner, as observed in its architecture and interior décor. The breathtaking view from balconies to the recesses of Hoang Lien Mountains also makes this hotel an emerging tourist hotspot in Sapa as a new year draws near.
Fansipan changed. So did Sapa, as both are worth your trip of a lifetime.
Source: Lao Cai press