Hoang Lien Mountains and Sapa ranked 7th out of 28 destinations voted by the National Geographic and thus ranked as the most fascinating destination of Southeast Asia.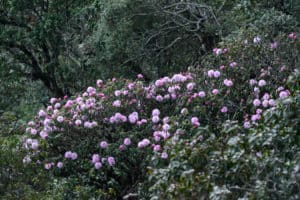 National Geographic is an American magazine with an extensive readership worldwide whose publications have been translated into 40 languages. In the latest list of the "World's most fascinating destinations 2019", which was ranked by travel editors and adventurers of the National Geographic, the magazine unveiled 28 most fascinating destinations of the world, of which Hoang Lien Mountains in Sapa, Vietnam was ranked 7th out of 28.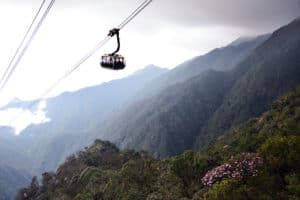 These are "the 28 most exciting journeys and they did create inspirations, change our vision and connect us to cultures, destinations and influential ideas all over the world", said Mr. George Stone, Head of the Board of Travel Editors of the National Geographic.
In the introduction of Hoang Lien Mountains, this established magazine said: "Owing to the new cable car route, a surge in visitors can now gain access to the 3,143m-high Fansipan. These regions of the Northwestern highlands (well off buoyant Sapa Town) are still largely pristine and bucolic, which are in stark contrast to dizzy and hectic Hanoi, although they are just 313km away northeast of the capital".
In order to fully relish the unspoiled beauty of Hoang Lien Mountains, Fansipan cable cars are indeed delightful transport means.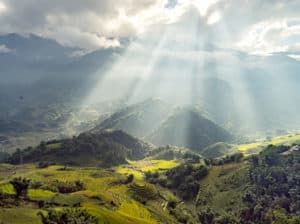 The three-wire Fansipan cable cars connect from Muong Hoa Valley to the Fansipan, "The Roof of Indochina" in Vietnam by carrying visitors over vales, deep perennial forests and over billowing ocean of clouds in the magnificent and heavenly backdrop of undulating Hoang Lien Mountains.
From across the midair, through windowpanes of these cable cars, visitors can fully admire the panoramic view of the Northwestern enchantment that is characterized with rice terraces in their harvest.
Those who opt out of cable cars may be pleased with trekking through the woods and explorations of lives of ethnic minorities in Sapa, or some ubiquitous cultural traits of this Northwestern highlands, rarely found in other corners of the globe, and thus an equally rewarding experience in your trip.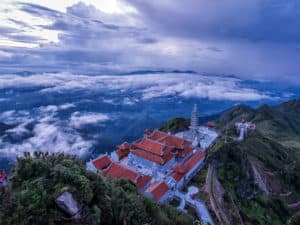 Hoang Lien Son will also hold visitors enthralled who choose to travel to this cloud draped complex atop the Fansipan. A huge religious compound of towering hallmarks against the mountainous setting, looming behind the thin veiled frost nd clouds, echoes the haunting pagoda bell sounds over cliffs, and in our inner serenity and peace of mind as well.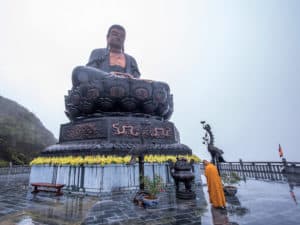 At this compound, visitors can admire the Amitabha Statue – the tallest bronze Buddha statue of Vietnam that towers up to 21.5m and is clad with tens of thousands of 5mm-thin bronze plates. It's also an unheard and unseen elaborate work of sculpture in Vietnam. From here, vistors can take a panorama of Hoang Lien Mountains, under the benevolent shelter of Buddha.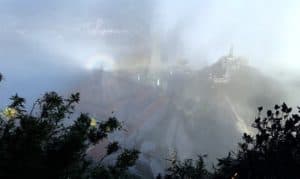 This religious, architectural and cultural compound has also witnessed several rare cases of "flourescence"that is so esoteric and inscrutable in the perception of Buddhist followers.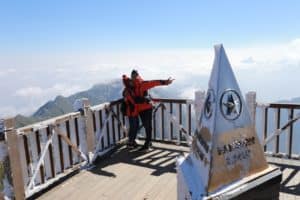 The peak of the fansipan is the milestone at 3,143m high – a key milestone for the conquest of the legendary "Roof of Indochina" that anyone wishes to touch once in their lifestime. Here visitors can bathe in the irresistibly breathtaking cloud ocean described by the National Geographic when it comes to Hoang Lien Mountains.
Alongside trips to explore native cuisine in hamlets, visitors can also touch the authentic highland tastes through traditional delicacies of the Northwest such as Sapa pork sausage, Bac Ha phở, hung dried buffalo meat or native sticky rice… prepared by ethnic communities at their highland marketplace hosted in the Fansipan cable car departure terminal.
Meanwhile, the sizable Winter Festival is also underway. Cable car fare is dropping by 50% for Vietnamese nationals from December 1 to 20, 2018.