On December 1, the 2018 Winter Festival was officially opened to welcome visitors from throughout the country to the Fansipan to enjoy the largest festival of the year.
As early as the morning, visitors flocked in droves to the Sun World Fansipan Legend. Also on this occasion, the resort offers 50% discount on cable car ticket fare for Vietnamese nationals and another discount program on Muong Hoa Hiking Train ticket fare to just VND50,000 up until December 31, 2018, which facilitate visitors to truly appreciate the breathtaking beauty of teh Northwest and climb up the Roof of Indochina.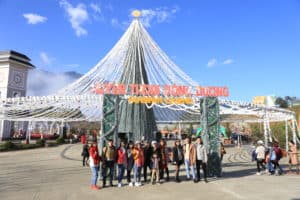 Celebrating visitors at the entry is the most colossal pine tree of Vietnam, which was erected for the first time on the Roof of Indochina and stands 18m tall and spans 36m wide on a perimeter of over 600m, beaming with the smiley sun in reference to the welcome of visitors to the festival and the Sun World Fansipan Legend, taking all visitors by surprise.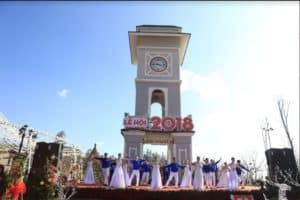 An elaborately orchestrated music concert Marks of Winter that features the musician and performer team of Lao Cai Performing Art Troupe did add vibrancy to the festival.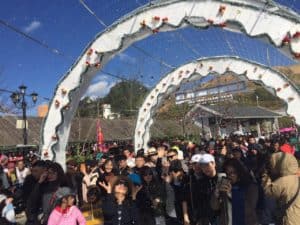 Visitors were truly delighted in the concert and stood in long line to wair for the longest Winter Road of Vietnam stretching up to 50m and accommodating over 500 visitors in a Winter Festival entitled "Fansipan – The Snow Blanketed Trail" that was much more elaborately crafted and recognizably decorated than it had been a year ago.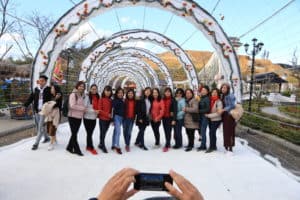 Strolling on such a novel trail takes visitors closer to the fairylike snowy ambience of Europe in the signature frosty chills on hilly plateaus while raising their hands to embrace thousands of white snowflakes all over the trail. Amusing gold antlered reindeers, Santa Claus in their red attires or sparkling gigantic pendulous baubles of all colors… open up a vast and unwinding Christmas heaven.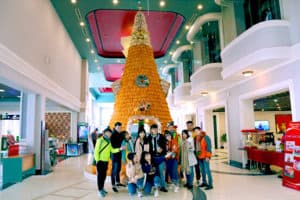 The one-of-a-kind corn Christmas tree in Vietnam was crafted out of over 7,000 corns, an integral staple of the Northwest.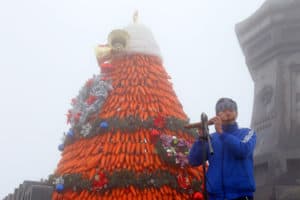 A carrot Christmas tree that glowed well over the Roof of Indochina is also one of the favorite check-in places of visitors.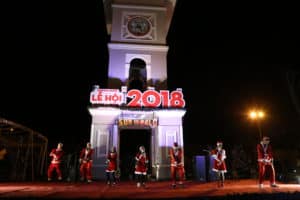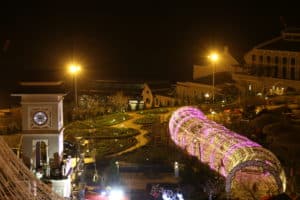 In particular, Fansipan Bazaar that takes place at night during the Winter Festival includes a string of memorable performing events, such as the Marks of Winter and the mythically glistening atmosphere of the Northwestern highlands.