At the height of 3,143m, the Fansipan (Lao Cai) is being frozen with snow, to the delight of numerous admirers.
Between November 28 and 29, frost was seen roaring all over the Fansipan. The temperature at the Fansipan at 8am this morning was 3oC, but by night it will drop to zero.
First visitors at the Fansipan were mesmerized by thick frost blanketing over branches that seemed to petrify all creatures in sheer crystal clads.
Water is frozen in lumps on the surface of the 9-storey waterfall, giving rise to thin ice on stone steps.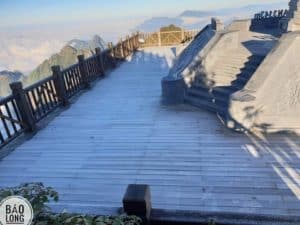 The magical frost has been prevailing over the last two days (credit: Bao Long)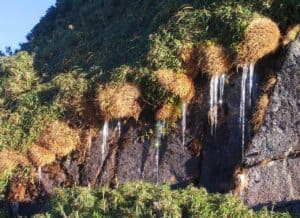 The thin ice that clads branches and grass contributes to the otherworldly scenery on the Fansipan.
Icy flowers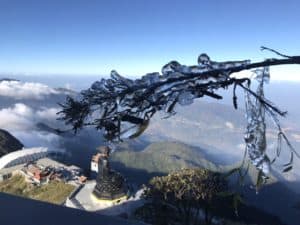 Touch the frost
  Characterized by the crisp cold, upon approaching Lao Cai, the Borean winds prevented it from raining, while it was quite crisp sunny, and colder on the platform at night and by the dawn, while frost presides over large swathes of mountains, and highland regions are most heavily affected by the frost.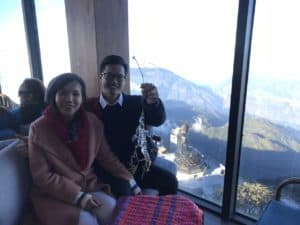 Visitors admire the frost to their delight
  The chilly air sweeps and keeps the temperature plummeting to 15 to 17oC, 9 to 11oC on the highlands or even 6 to 7oC in Sapa Town. The Fansipan is likely to be attacked by frost in one to two days.
These days, the Fansipan is hosting the Winter Festival and the repeating frost lends the event some sparkle. Particularly, between December 1 and 20, a special 50% discount program on cable car ticket fare for Vietnamese nationals to conquer the Fansipan and explore the largest Fansipan winter festival entitled "The Snowfall Heaven" ever in the northwest of Vietnam. Don't hesitate to pack up and melt yourselves in the white frost awaiting here.